Seattle, the bustling metropolis in the Pacific Northwest, offers an abundance of exciting attractions for visitors of all kinds. While exploring the city's vibrant character, be sure to check out these five remarkable free gems that showcase Seattle's culture, innovation, and natural beauty.

Bill and Melinda Gates Discovery Center
Delve into the world of technology, innovation, and philanthropy at the Bill and Melinda Gates Discovery Center. This interactive museum offers a captivating journey through the Gates' philanthropic endeavors, highlighting their commitment to improving lives worldwide. Discover exhibits showcasing groundbreaking innovations, explore the impact of technology, and engage in hands-on activities that inspire creativity and problem-solving. The Discovery Center is an enriching experience for all ages, offering a deeper understanding of the positive changes technology can bring.
Olympic Sculpture Park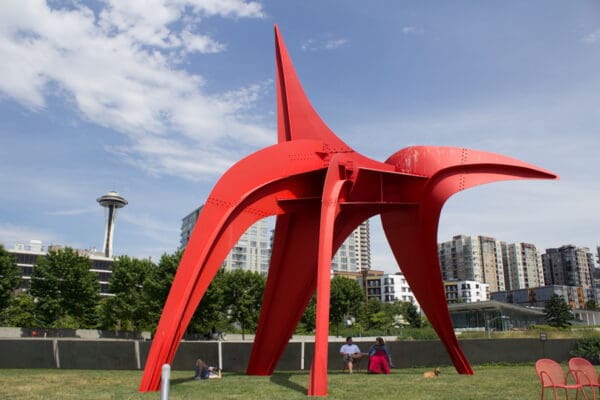 Nestled on the picturesque Seattle waterfront, the Olympic Sculpture Park combines art and nature seamlessly. Stroll through this nine-acre outdoor sculpture gallery, featuring monumental contemporary artworks amidst stunning views of Puget Sound and the Olympic Mountains. Admire sculptures by renowned artists such as Alexander Calder and Louise Bourgeois, while enjoying the park's meandering paths, manicured gardens, and serene atmosphere. Don't forget to capture breathtaking photos of the iconic "Eagle" sculpture, a symbol of the park's artistic grandeur.
International Fountain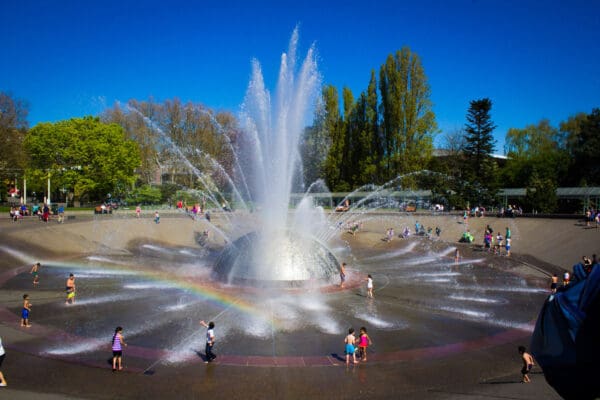 A visit to Seattle would be incomplete without experiencing the lively International Fountain. Located in the heart of Seattle Center, this iconic landmark delights visitors with its rhythmic water displays and vibrant atmosphere. Marvel at the towering water jets choreographed to music, creating a mesmerizing spectacle that captures the essence of joy and unity. Take a seat on the surrounding benches, and relish the soothing mist on warm summer days. The International Fountain is a favorite gathering spot for locals and tourists alike, providing a refreshing respite in the heart of the city.
Pike Place Market
Dive into the heart of Seattle at Pike Place Market. Witness the energetic atmosphere as fishmongers hurl fish through the air and explore the bustling stalls offering local produce, crafts, and souvenirs. Don't forget to capture a family photo next to the iconic bronze Rachel the Piggy Bank statue!
Discovery Park
Nature enthusiasts will delight in the vast wonders of Discovery Park. Spanning over 500 acres, this urban oasis boasts magnificent views of the Olympic Mountains and Puget Sound. Take a leisurely hike along the trails, explore the enchanting forest, or relax on the sandy shores of the beach. Keep an eye out for wildlife sightings!
In Seattle, adventure and exploration need not come at a hefty price. With the Bill and Melinda Gates Discovery Center, Olympic Sculpture Park, International Fountain, Pike Place Market, and Discovery Park, visitors can immerse themselves in the city's rich cultural offerings and natural wonders, all without spending a dime. So, grab your camera, embark on a budget-friendly journey, and discover the captivating treasures that await in the Emerald City.